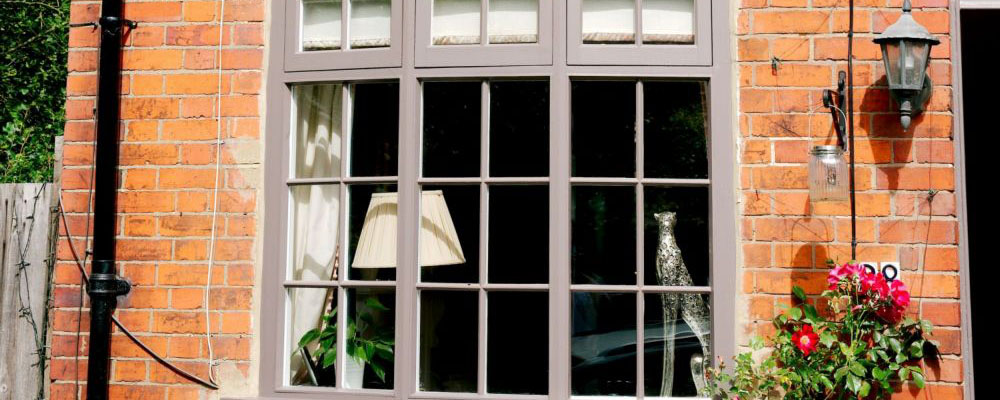 Posted on: October 12, 2015
The Easiest Ways To Clean Your Sash Windows In Reading
Sash windows are made up of different movable panels that form a frame, within which panels of glass are geld. Typically, these panels are separated from each other via narrow muntin bars. As they are so different from single-panel windows, when it comes time to cleaning them it can be quite a daunting task.
Here at Kelly, we are industry-leading replacers and refurbishment experts of sash windows in Reading, and a great number of the windows that we refurbish or replace have been inefficiently cleaned, which can really lead to a shortened lifespan. Making sure that your glass panels stay as clean as possible is a great way to make them last longer, look nicer and let more light into your home.
A Word Of Warning
Most homeowners tend to believe that the easiest way to clean windows like these is to simply splash it with a bucket of water, containing some kind of heavily-diluted detergent. Almost as many people tend to use high-pressure water sprays to displace the dirt. These two solutions might be quick and easy, but they don't actually work!
This method does disturb the dust and dirt on your windows, but it can accumulate in the small gaps between the glass and the window itself. This dirt can then harden and make it extremely difficult to open your windows at all. Once this happens, you may well need the replace your windows entirely, or call in the experts.
4 Simple Steps To Completely Clean Your Windows
Before anything else, make sure that you dust your windows completely. Use a clean and dry cloth to pick up as much of the particles of dust and dirt attached to your glass panel. These particles can often fall into the muntins, which are responsible for holding the glass in place.
Even once you've dusted your windows, dirt can still be found in hard to reach places. To remove them, use a brush with small and soft bristles to make sure you don't scratch the muntins. For the best results, you can use a vacuum cleaner with a small and precise nozzle.Remember, too, to open your panels during this step, as that will allow you easier access to the areas where the dirt most often accumulates.
Remember that you can use mild cleaning products instead of harsher alternatives, such as bleach. You can even make your own, by diluting a quarter of a cupful of vinegar into two cups of tap-water. If you add a little soap, this mixture should then create froth just like other forms of cleaning solution.If you don't like the smell of vinegar, you could replace it with something like lemon zest; if you do, make sure to reduce the amount of the ingredient that you dilute. For lemon zest, for example, you only need to use half the amount of liquid as you would if you were using vinegar.
Spray the surface of your sash windows with your solution and use a fresh, clean cloth to wipe it across the surface. Make sure that you use a smooth cloth, as one with a coarser texture might damage the glass or leave strands on the wet surface. Make certain that you only move the cloth in one direction and complete it all in one motion – if you clean from right to left, make sure that you continue this pattern all the way down the glass' surface.As well as reducing the likelihood of contrasting streaks, this will prevent accumulated dirt from gathering beneath the cleaning cloth and regaining contact with the glass itself.
Cleaning Sash Windows Doesn't Need To Be Difficult
Making sure that your windows are clean doesn't need to be a huge chore, but it does take time to do it properly. One real cleaning session every few weeks is better than throwing water at a window every other day.
Whilst proper care and maintenance can extend a sash window's lifetime, there are often times when they become unusable and require real expertise to make them practical again. When that happens, you need to call in the experts.
Here at Kellys Sash Windows, we are proud to offer a diverse range of services, from refurbishment and restoration to the installation of completely new sash windows in Reading. For more information, please don't hesitate to get in touch with our professional team today on 0800 634 8636.