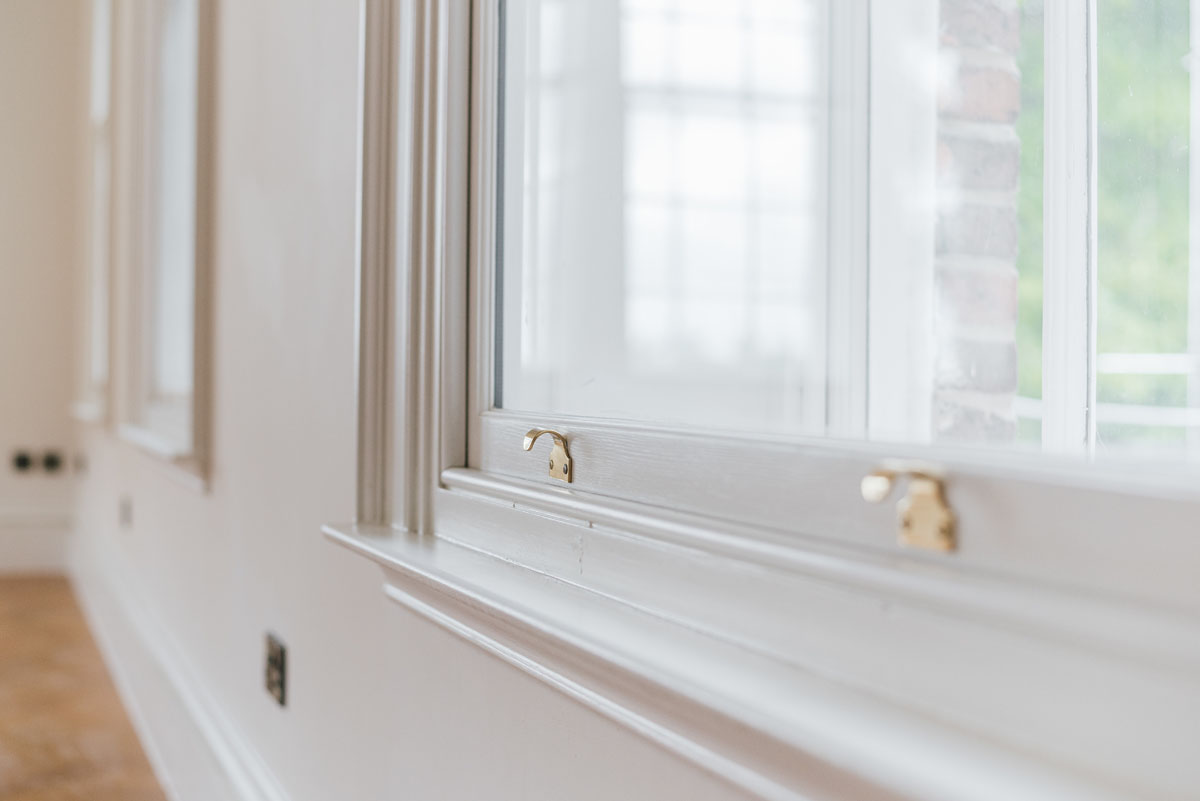 Wooden Sash Windows
Double Glazed Wooden Sash Windows in Reading & London
For homeowners looking to combine the modern convenience of double glazing with classic style, we have a range of wooden sash windows perfect for the job. From elegant timber sash windows and Georgian designs to Victorian-style flush casement windows, we have something to suit every taste and property type.
Whether you're looking to add a touch of warmth and charm to your home or want an efficient solution that still looks great, our options will surely provide what you're searching for. Traditional hand made Sash Windows are a speciality of ours. Whilst we offer the lowest prices across the South of England, we take care to ensure that our services remain as good value and high-quality as possible.
Durable, Stable and Sustainable Wooden Sash Windows
Redwood, Red Grandis or Accoya® hardwood for your windows and doors is naturally insulating, and reliable long lasting from fast growing sustainable forests.
Redwood
Distribution
Widely distributed in Europe and northern Asia.
The timber
This is a creamy-white to yellow in colour, narrow especially in Northern environments. The growth rings are clearly marked by the denser late-wood.The quality of the timber is affected by the conditions of growth, climate, soil, elevation, etc more than most timbers because of its wide and varying distribution.
Working qualities
The timber works easily and well with both hand and machine tools, but ease of working and quality of finish.
Red Grandis
Distribution
Eucalyptus Grandis is native to eastern Australia, and a number of large plantations have been established in South America and South Africa.
The timber
The colour can vary to from light pink to dark red, the sapwood does not vary significantly from the heartwood, and this should be taken into account when processing it is for end uses where sapwood exclusion is important. The grain may be interlocked but plantation stock is generally more straight grained, and the texture is fine.
Working qualities
Works well with planing due to occasional interlocked grain, good nailing and screwing properties. Takes a good finish and can be glued satisfactorily.
Accoya®
A unique aspect of our Accoya® doors is that they are rot proof, so replacing your windows and doors is something you will only have to do once in a lifetime. Accoya is the truly sustainable choice that helps you meet global challenges like climate change. With a low carbon footprint, you can help combat carbon emissions for a healthier world. Its also non toxic, so safe for people and pets as well as the planet.
Accoya® wood is ideal for windows and doors; is naturally insulating, reliable and from fast-growing sustainable forests.
Get A Free Quote
Contact us for FREE advice or a no obligation quote on 0800 634 8636.
Or alternatively fill out or short form and we will get back to you.
1. Double Glazed Wood Windows
With double-glazing windows, you can enjoy the best of both worlds: insulation and soundproofing that helps to keep your home warm and quiet, as well as a timeless aesthetic. Also, double-glazing windows are highly efficient – they reduce heat loss and help you save money on your energy bills. Double-glazing windows may be a perfect choice for those looking for long-term investment and who want to reduce their energy bills.
2. Timber Sash Window
Timber sash windows provide an attractive, traditional look that can add real character to your home's exterior. They also offer excellent insulation, helping keep your home warm and cosy in winter. Also, the windows are relatively easy to maintain and can last many years with the correct care. Kelly Sash Windows offers beautiful and authentic timber windows to achieve the perfect look for your home.
3. Wooden Sash Window
Wooden sash windows are a classic choice that can add charm, beauty and value to your property. They offer the perfect combination of traditional style and modern efficiency and can be easily customised to fit any requirement. Also, new sash windows are renowned for their durability and low maintenance, making them an excellent choice for homes and businesses.
4. Georgian Windows
Georgian windows are perfect for a classic, traditional look that never goes out of style. With simple yet elegant lines, these windows can enhance any building's exterior and bring warmth and character to your home or office. In addition, they also offer great sound and thermal insulation, meaning they can reduce your energy bills while keeping unwanted noise out.
5. Victorian Windows
Victorian windows offer timeless elegance and charm to any building. Their intricate lines and large glass panels make them an ideal choice for homes and offices looking to make a statement. As well as being aesthetically pleasing, Victorian windows can provide improved insulation and noise reduction, making them an investment that will pay off in the long run.
6. Flush Casement Windows
Flush casement windows are a great option for those looking for a modern alternative to the traditional appearance of wood double-glazing windows. They boast clean lines and sleek designs, which can enhance any building's exterior without compromising its character. As well as providing exceptional insulation, these kinds of windows are also incredibly low-maintenance, ensuring you have the perfect combination of style and practicality.
New and Replacement Windows and Doors
If the passing years have taken their toll on your windows, we can build you elegant replacements that reproduce the original detail, whilst offering you the benefits of draught sealing, discreet double glazing and other specialist glass, should these be required.
Wooden Sash Windows in Reading, Berkshire & London
From wooden sliding sash windows to Victorian and double-glazed sash windows, we provide homeowners with a wide range of styles. Double-glazed windows offer superior insulation, sound reduction, and security benefits compared to single glazing. They can also reduce energy bills and improve the look of your home.
We take pride in providing quality and efficient new timber sash windows at Kelly Windows. With our experienced team of professionals, you can be sure your new window will last many years. So why not get in touch today and see how we can help with all your double-glazed window and sash lift needs?
Wooden sash and casement windows and doors
Wood is the most traditional material for making windows and doors. It has an ageless and universal appeal. Good-quality, well-made wooden windows and doors are also physically durable, and with the right treatment, should last generations. Generally speaking, they are more likely to be what was originally in the house and you can be confident that wooden windows and doors will look sympathetic.
By getting your windows and doors made by the craftsmen at Kellys Sash Windows, you can be sure of a design that will reflect the original style of your property.
If you are replacing the windows or doors in your home and are unsure which material to opt for then we can offer you plenty of advice to help you decide.
A boxed sash window is the name for a type of installation that is usually more stately-looking in nature and is designed for much larger windows.
They have a rich history and were especially popular in the country during the Victorian and Georgian periods – hence why many homes of that vintage still have them installed.
Their traditional style has never been out of fashion, even newly-built homes are taking advantage of the aesthetic benefits that sash windows provide. Blending the classic look with modern technology, makes these types of windows perfect for anyone who wishes to maintain the historic look of their home.
Whereas the replacement of an existing sash window involves only the removal of the existing window from its box, complete boxed sash window replacements require the removal of the entire frame from the wall and, in its place, an entire new boxed window is installed.
This is the only sure way to replace your entire window fittings, which make for a better, more bespoke window to be installed.
This is a method that many people choose, simply to ensure that the window is running at its most optimum – mismatched windows and boxes won't have the same effects as a custom-built pair will have.
Replacement Wooden Windows
When replacing your old, tired hardwood windows, you can trust Kelly's Sash Windows for quality service. Our team of experts will help you choose the perfect window solution and install them quickly and efficiently with minimal disruption. All our replacement windows are crafted with premium materials that meet all current standards and are designed to last years.
Our wooden double-glazed windows provide superior insulation and thermal efficiency, helping to keep your home cosy while saving you money on energy bills. We also offer bespoke wooden windows made with red grandis timber, perfect for period properties or if you're going for the classic look. We have got you covered for a reliable and cost-effective window replacement service. Get in touch with us today for a free quote!
We offer a wide selection of modern timber windows for those who prefer real wood's strength and timeless beauty. Our timber windows are available in various colours and styles, including traditional designs that add character to any home. We use only the highest quality red grandis timber treated for maximum durability and protection against weathering. All timber windows are crafted with precision and attention to detail for a perfect finish.
Red Grandis timber window provides excellent insulation benefits and can help reduce your energy bills. With proper care, they can last for many years and are an ideal choice if you're looking for a low-maintenance yet beautiful window solution. You'll also be sure to benefit from our bespoke wooden window services, which include customised designs to fit the style of your home perfectly.
We have a great deal of experience with replacing windows and doors in conservation areas in London and the south east.
You will need to consider what windows and doors you already have, the style of your home, your budget, environmental concerns and – if you are likely to move within the next 10 years or so – the saleability of your property.
If your home is listed or in a conservation area, your choice will be strictly controlled by the local authorities and you would almost certainly have to replace like for like.