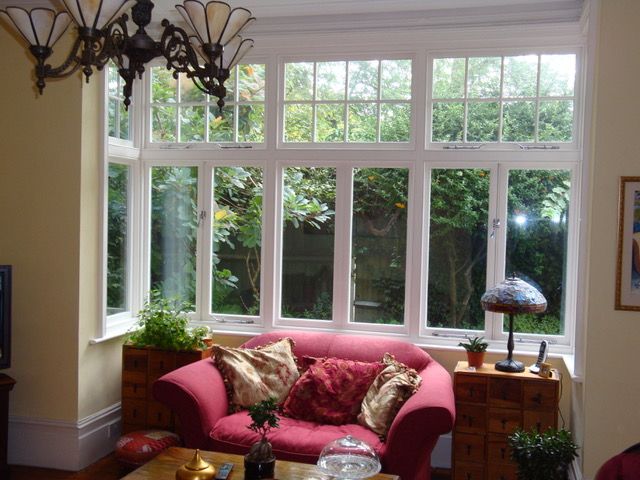 Posted on: December 3, 2015
What Are The Most Common Types Of Timber In Sash Windows?
Unlike with plastic or aluminium designs, there are a wide range of sash window restorations and repairs that can be undertaken, to return tired, worn-out windows to their high-quality manufacturing standards. Many timber windows that might, initially, appear to be beyond repair can be restored to fantastic working order with very minimal work.
What Are The Most Common Types Of Timber Used In Sash Windows?
Oak – Both European and American oak are popular choices for hung windows. Waxed oak in particular offers a beautiful finish that has remained extremely popular for centuries in both home and furniture construction. Whilst it is very durable, the major downside of oak is that it is considerably heavy, which can place too much weight on sash windows.
Mahogany – Only occasionally used for the construction of sash windows, mahogany is a fairly dark wood that creates very stable timber and is great for window frame construction of all kinds. On the downside, it is often fairly expensive.
European Redwood – The most common timber by far when creating modern sash windows are European Redwoods. Deal, Scots Pine and Baltic Pine are extremely popular. Today, the European Redwood is available on a massive scale, and is rapidly gown in sustainable plantations.However, as it is in such high demand, it often suffers with regards to quality when compared to older growth and more expensive timbers. Whilst it is moderately resistant to rot and decay in of itself, it is important that the paint work is maintained in a good condition to ensure high levels of protection from the elements. However, as it is lightweight and available on a budget, it is ideal for many forms of sash windows.
Douglas Fir – Time-proven softwood that is extremely popular across the world, this wood is typically grown in areas like the USA, Canada and New Zealand. Douglas Fir is an extremely good insulator when it comes to sound, heat and energy.It also possesses natural fire retardant qualities and is resistant to mechanical and chemical abrasion. Occasionally, there is the risk of splitting, but this is extremely unlikely when it comes to the design of sash windows.
Dark Red Meranti – Much less common than the other types of timber used, Meranti is variable in colour and density because there are so many sub-species of tree. It is a popular, affordable hardwood for the manufacturing of windows and doors. Meranti is predominantly grown in South East Asia, and is naturally resistant to decay and insect attack.
Sash Window Restorations In London And Across The South West
When it comes to sash windows restoration, the type of wood used in your window design is extremely important. Although a professional team will be able to refurbish your window no matter what kind of wood it is made of, some woods will not last as long as others. With sash windows restoration services from Kellys Sash Windows, you will be able to enjoy a completely refreshed window design and see your house's unique character brought back to life.
Along with the aesthetic benefits, our services will also be able to improve the energy efficiency and practicality of your portals, by creating sealed environments which effectively insulate your home.
For more information, please don't hesitate to get in touch with our professional team today on 0800 634 8636; alternatively, you can email your questions to our specialists directly at enquiries@kellyssashwindows.co.uk, and we'll get back to you as soon as we can!